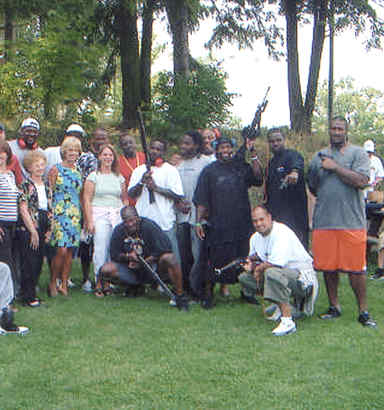 …served up with a healthy dose of PSH.
AT LEAST 14 Pittsburgh Steelers participated in a shooting party with Pennsylvania State Police troopers at the Greensburg barracks, using state police ammunition and illegal assault weapons from the evidence room, sources say.

…

"The photos show generally unsafe gun-handling techniques," said Paul Raynolds, a chief range-safety officer from North Jersey. "The players look to be poorly supervised. Basic firearm-safety rules are not being followed."

One "sacrosanct" gun-safety rule ignored in the photos is the safe-direction rule, Raynolds said.
I especially like the two guys on the right. The "gangsta" pose assumed by the one clearly and consciously aiming at the back of the head of the guy in front of him is so stylish. At least it appears that he doesn't have his finger on the trigger, which is more than can be said for the guy right next to him that's pointing a pistol at HIS head.
The tone of the story does give the impression that they don't think the shoot should have taken place at all…a contention that I heartily disagree with. I don't see anything wrong with the State Police holding a PR shoot with celebrities…but the apparent utter disregard for safety is appalling and well deserving of criticism.
Remind me never go to a shoot if the Pittsburgh Steelers players (or the Pennsylvania State Police for that matter) are going to be in attendance.