In another case of a comment that turned into a post:
My good friend Thirdpower, over at Days of our Trailers, pointed out the fallacies in a recent editorial by perennial anti-gun bigot Jesse Jackson.
Although Thirdpower did a good job of succinctly pointing out a major problem in Mr. Jackson's first point, I don't feel he went far enough.
Under a federal assault weapons ban from 1994 to 2004, there was a 60 percent drop in assault-weapon deaths. – Jesse Jackson

There was a 60% drop in ALL homicides during that period. -Thirdpower
I've looked at this issue in detail before, when researching the issue in forming my own opinion about it (an exercise I heartily recommend for anyone before taking a position on an issue) so I started to put some of my findings out there in his comments section. As usual it got too long for a comment, so here's the truth about "assault weapons" and homicide and the effect of the ban on scary looking cosmetic features (sometimes referred to as the "assault weapons ban"):
All my data came from the FBI Uniform Crime Reports. Not from the NRA, or Brady Campaign, or any other biased group that may have massaged the numbers to make them say what they want them to say.
Every year's UCR has a table that breaks down homicides by weapon for the year of the report and the preceding 4 years.
The UCR doesn't differentiate between "assault weapons" and other rifles (probably because there IS no functional difference) so the numbers I use to represent "assault weapons" is actually the number of homicides where ANY type of rifle is used.
That's an important distinction because it means that these numbers are actually TOO HIGH. We don't know by how much, but they are, in fact, inflated in favor of the anti-gun position.
So: What do the numbers say?
In 1994, the year the ban was passed, and the first year Mr. Jackson cited for his claim, there were 22,084 homicides. Of those, 15,463 involved firearms. only 724 were committed with rifles of any type.
That means that rifles of any type were used in 3.3% of all homicides in 1994 and only in 4.6% of "gun homicides"…the metric that the anti-gun lobby likes to use because, I guess, you're less dead if you're killed with a knife or something.
Although the number of homicides decrease steadily throughout the period 1994 to 2004 (a trend which actually began in 1991, well before the passing of the Clinton Crime Bill), so did the use of rifles…so the percentage remained fairly steady.
In 2004, the year the ban expired, there were 14,210 total homicides, of which 9,385 were committed by perpetrators using firearms, and 403 using rifles.
To give credit where due, Mr. Jackson was correct that there was a 60% decrease of homicides in which rifles were used (actually 55.6%, but that's close enough for government work isn't it?)…but Thirdpower was absolutely correct that there was a corresponding decrease in total homicide (64.3%) and firearms homicide (60.7%). In fact, if we pretend (as the anti-freedom lobby regularly does) that a simple correlation can be used as proof of causation, then the assault weapon ban decreased non-firearm homicide more than it did firearm homicide.
At any rate, getting back to my point: crunching the numbers again, we find that a very similar percentage of homicides were committed by criminals using rifles of any type: 2.83% of all homicides and 4.29% of gun homicides.
So there may have been a slight decrease but the numbers are remarkably steady.
But, since Mr. Jackson's contention is that the ten years of "assault weapon ban" CAUSED that slight decrease, obviously, when the ban expired in 2004, the rate of murders with "assault weapons" MUST have gone back up right? Especially when you consider the huge upsurge in popularity of the AR-15 style platform in all types of shooting endeavors.
Um…not so fast there buster.
In 2010, there were 12,996 total homicides…note the continued decreasing trend…including 8,775 gun homicides and 358 committed by criminals using rifles.
Hmm. That means that in 2010, 2.75% of all homicides were committed using rifles of any kind, and only 4.09% of gun homicides were committed using rifles.
That's six years AFTER the ban expired.
Hmmm.
Something doesn't add up here.
Something is definitely causing our homicide rate to decrease, but it sure wasn't any ban on pistol grips and barrel shrouds. In fact, there is no correlation at all between any gun control measure and the significant decreases in homicide rates we've been enjoying since about 1991.
You know what HAS correlated nicely with the decreasing homicide rates?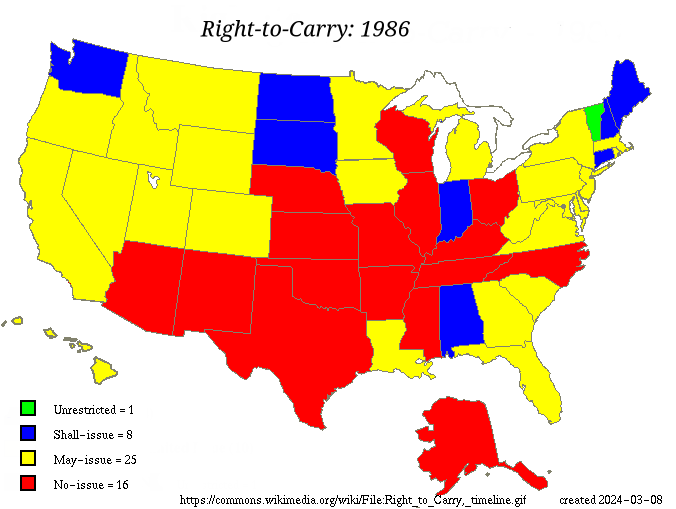 (click the image to go to the source)
One other point to make regarding the use of "assault weapons", or any rifles for that matter, in homicide:
According to the same FBI Uniform Crime Reports – hands, fists and feet are consistently used two to three times more often to commit homicide in this country than rifles of any type.
Two to three TIMES more often.
That's 200 to 300 percent.
Perhaps we should be registering and restricting ownership of bodily appendages.
You see how it works? By focusing on one small element of the issue, and ignoring the greater context, they can make something relatively minor look like a much bigger problem than it really is. So-called "Assault Weapons" are involved in only a tiny fraction of homicides and even if restricting them were 100% effective (which it would not be…in fact, the 1994 to 2004 AWB demonstrated pretty thoroughly that such a law is approximately 0% effective), it would only reduce homicides by less than 3 percent…and that's assuming that the bad guys don't just use their hands and feet instead.
This is what is known as "a solution in search of a problem"; and is prima facia evidence of the lack of rational thought that goes into your typical anti-freedom advocate's issue selection process.
If you want to verify that the information I presented here is an accurate representation and not just "cherry picked" to reach a predetermined conclusion (another favorite trick of the anti-freedom lobby), here are links to the source data:
1994 to 1998, Table 2-10 (pdf): http://www.fbi.gov/about-us/cjis/ucr/crime-in-the-u.s/1998/98sec2.pdf
1999 to 2003, Table 2-9 (pdf): http://www.fbi.gov/about-us/cjis/ucr/crime-in-the-u.s/2003/03sec2.pdf
2004 to 2008, Table 8: http://www2.fbi.gov/ucr/cius2008/offenses/expanded_information/data/shrtable_08.html
2006 to 2010, Table 8: http://www.fbi.gov/about-us/cjis/ucr/crime-in-the-u.s/2010/crime-in-the-u.s.-2010/tables/10shrtbl08.xls